Post-COVID, the sanitiser market will shrink considerably and there will be room only for old trusted brands or bulk low margin suppliers, suggest experts.
Every one in two urban households are now using sanitisers, as per data from Kantar.
The pandemic has triggered a gold rush in the health and hygiene sector, particularly sanitisers – even if temporarily.
A severely underpenetrated category in the pre-pandemic period, sanitisers have witnessed massive adoption amongst the consumers since March 2020.
According to data from Kantar, annually, before the pandemic struck (March 2019 – February 2020) hand sanitiser penetration was about 1.2 percent; on an average in a month only 0.1 percent of the urban households bought the product.
However, during the first 12 months of the pandemic, the category reached nearly 50 percent penetration, a quantum leap.
It means everyone in two urban households are now using sanitisers, as per data from Kantar, the world's leading data, insights, and consulting company.
Overall, the hygiene category had witnessed a huge spike in sales as the first wave of the COVID-19 pandemic struck the country in March last year.
Although the sales declined as the cases subsided, the demand jumped up again with the second wave of the pandemic.
Several companies had made a beeline for the category and joined the sanitiser gold rush.
According to data from Kantar, as many as 350 brands of sanitisers were launched in the first three months of the pandemic.
Consumers are also buying more products in the hygiene category such as vegetable cleaners and surface disinfectants.
Data from Kantar shows that vegetable and fruit cleaners now have a penetration of 2 percent and surface disinfectants 1.5 percent.
"For a category that is driven by a limited number of brands and has not even been there for a year, it is a huge success," said K Ramakrishnan, MD – South Asia, Worldpanel Division, Kantar.
Though the category overall has seen an increase in demand, industry and experts expect only a few big brands with a strong legacy in the hygiene segment to sustain in the long run.
Hence companies such as Marico have already started deprioritising the category.
"Of late, we have realised that it (sanitisers) is more of a tactical opportunity for us to provide consumers what they needed then," Pawan Agrawal, CFO, Marico, said.
"These products do not fit into our scheme of things as we understood that consumers will go back to the legacy brands with strong equity in hygiene, and hence three-four brands will have a larger play in the segment," he added.
Marico, hence, has decided to not make any fresh investments in the category going ahead.
Raymond Consumer Care, which sells sanitisers under its brand Park Avenue, too, has similar plans.
"We believe post-COVID, the sanitiser market will shrink considerably and there will be room only for old trusted brands or bulk low margin suppliers. Given this context, we will maintain strategic presence in the chemist channel, but this segment will not be a priority," admitted Sudhir Langer, CEO – Raymond Consumer Care.
Other companies such as CavinKare plan to focus on flagship products such as handwashes.
Said Raja Varatharaju, GM Marketing – Personal Care, CavinKare: "As the demand for sanitisers continues to slow down, our core focus will remain on offering a bouquet of products under the health and hygiene portfolio as we move forward. We will increase and strengthen our focus on hand wash, as it is a flagship product in our portfolio."
Reckitt's Dettol, ITCs' Savlon and Hindustan Unilever Limited's (HUL) Lifebuoy are some of the top brands in the health and hygiene space, which are likely to benefit from this trend in the long run, indicate experts.
Consumers associate certain products and categories with certain brands and are inclined to buy from them, said Devangshu Dutta, Chief Executive at retail consultancy, Third Eyesight.
Hence, companies, which saw in the pandemic the chance to tap the short-term opportunity, do not want to focus on it any longer.
Source: moneycontrol
Written By Venkata Susmita Biswas
There has been an uptick in the sales of robotic and upright vacuum cleaners in India
Unlike the western markets, the penetration of vacuum cleaners remains negligible in India.
Vacuum cleaners — one of the least bought consumer electronics products in India — saw an upsurge in demand in 2020. The burden of juggling household chores and office work due to the pandemic-induced lockdown, and a heightened sense of hygiene, has encouraged more Indians to invest in vacuum cleaners.
Xiaomi launched its autonomous vacuum cleaner in India late last year, and Realme is set to enter the market ahead of Diwali. Eureka Forbes and Inalsa, too, have introduced robotic vacuum cleaners. Dyson, which has been present in this category since 2018, added a second demo outlet in Mumbai in February 2021, expanding the brand's offline retail footprint to seven stores.
Euromonitor International estimates India's vacuum cleaner market to be worth Rs 275.6 crore in 2021. In 2020, more than 4.3 lakh units of vacuum cleaners were sold in India. Anurag Mishra, principal, Kearney, informs that until 2020, the market had been growing at 1-2% per annum. But this grew to 5-6% in 2020.
A clean sweep
Xiaomi India ran a crowdfunding initiative for its robotic vacuum cleaner in 2020. This was mainly to understand if the spurt in demand for vacuum cleaners was merely a fad. The company said it will bring the product to India if 10,000 orders are placed.
"When we evaluated the vacuum cleaner category in 2018, the market was tiny," says Raghu Reddy, chief business officer, Xiaomi India. But things changed last year. About 85% of the crowdfunding goal was achieved, and Xiaomi launched the Mi Robot Vacuum Mop-P at Rs 17,999 (offer price).
Eureka Forbes, which commands about 70% of the market, added a vacuum cleaner that also mops, an autonomous vacuum cleaner and a handheld variation last year. "Until 2020, the category was chugging along with single-digit growth," says Shashank Sinha, chief transformation officer, and head – strategic marketing, Eureka Forbes. He adds typically cleanliness fanatics opt for upright or canister models for more efficiency, while working professionals prefer robotic models.
As per industry analysts, among upright vacuum cleaners, the most popular price point tends to be around Rs 18,000. Autonomous vacuum cleaners can cost anywhere between Rs 15,000 to Rs 1 lakh; among these, the ones in the Rs 25,000-30,000 range are in demand.
Pulak Satish Kumar, director and COO, iRobot India, saw a threefold growth in demand for the Roomba and other iRobot automated vacuum cleaners in 2020. He says these machines, which can be programmed to work on a set schedule, are popular among affluent tech-savvy consumers and those who have lived abroad and used similar products.
Costly affair
Unlike the western markets, the penetration of vacuum cleaners remains negligible in India. According to industry estimates, refrigerators have a penetration of 33%, washing machines even lower at 12% and ACs have a penetration of a little over 5%.
Devangshu Dutta, chief executive, Third Eyesight, attributes the low penetration to affordable labour being available abundantly. Washing machines have been around for as long as vacuum cleaners in India. But both these products have had vastly different journeys."Washing machines had become an upcoming trend in metro cities about a decade after their launch in India," Dutta observes. "They reduced the homemaker's workload. Vacuum cleaners, which are still expensive, cannot be handed to the domestic help, who would need to be educated to use the product."
Historically, vacuum cleaners have been sold on the premise that our homes host a multitude of unhygienic matter, dust and other microscopic particles that are not visible to the naked eye. "We had to create a need. We did this by showing dust inside homes, embarrassing customers and pushing a sale," says Sinha of Eureka Forbes. Direct selling has been the predominant retail channel for this product — about 40% of vacuum cleaners are still sold through this channel.
Inalsa, which ventured into affordable vacuum cleaners about four years ago, is selling its latest product exclusively on Flipkart. "Going omnichannel, selling on e-commerce platforms and playing on price points are required for this market to grow," says Kearney's Mishra. He expects the sudden demand to taper and settle at a growth rate of 3-5% per year, for the next few years.
Source: financialexpress
Written By DEVIKA SINGH
The FMCG major in a presentation circulated internally has acknowledged that more than 60 percent of its products do not meet recognised definition of health.
NESTLE USA – entrance to headquarters building with sign (Source: ShutterStock) Nestle
The spectre of 'unhealthy foods' is back to haunt Nestle again, this time globally. One of the largest food companies in the world and the maker of popular brands in India such as Maggi and KitKat has been cast in a negative light after (inadvertently) admitting that it has a large share of 'unhealthy products' in its portfolio.
If you are wondering what the fuss is about, here are answers to five big questions on the episode, including the potential implication on the company's Indian unit.
What is the row all about?
Nestle in a document circulated internally has acknowledged that more than 60 percent of its products do not meet the "recognised definition of health" and that some of its products "will never be healthy no matter how much the company renovates," reported the Financial Times.
According to the UK-based newspaper, the presentation was circulated internally among the company's top executives earlier this year and said only 37 percent of Nestle's food and beverages by revenues, excluding products such as pet food and specialised medical nutrition, achieve a rating above 3.5 under Australia's health star rating system.
Even within its overall food and drink portfolio, about 70 percent of food products failed to meet that threshold, along with 96 percent of beverages — excluding pure coffee — and 99 percent of confectionery and ice cream portfolio, as per the report.
The rating system is used in research by international groups such as the Access to Nutrition Foundation.
Ouch! What does Nestle have to say about this revelation?
After the report surfaced, Nestle S.A released a statement saying that it is working on a company-wide project to update nutrition and health strategy.
"We are looking at our entire portfolio across the different phases of people's lives to ensure our products are helping meet their nutritional needs and supporting a balanced diet," said a Nestle S.A spokesperson.
The company in its statement cited its efforts to improve the nutritional footprint of its products. "For example, we have reduced the sugar and sodium in our products significantly in the past two decades, about 14-15 percent in the past 7 years alone."
However, it also specified that external nutrition profiling systems like the Health Star Rating and Nutri-Score don't capture Nestle's entire portfolio.
"About half of our sales are not covered by these systems. That includes categories such as infant nutrition, specialised health products, and pet food, which follow regulated nutrition standards," the spokesperson said.
The company's Indian unit also has released a statement on the controversy.
"Nestle India believes that nutrition is a fundamental need and the food industry has a vital role to play in enabling healthier lives. Driven by our purpose, we are constantly striving to increase the nutrient profile of our products, as well as innovate with new and nutritious offerings," said a Nestle India Spokesperson.
Hmm … will the development have an impact on the company's Indian unit?
According to analysts, given that Nestle's India portfolio is quite different from its parent company, the development will not have much of an impact here.
"Given that Nestle has not positioned its products such as Maggi in the health category there is no change in the perception towards its brand with the recent development," says an analyst at a top brokerage firm.
Out of Nestle's 35 billionaire brands, only nine have a presence in India. Its brands such as DiGiorno croissant crust pizza, Hot Pockets pepperoni pizza, San Pellegrino drink, and Nesquik with the worst scores, as mentioned in the Financial Times report, are not present in India.
"Indian portfolio is different from the parent company's as it is a small sub-set with a lot of localisation for country-specific needs. Also, India is one of the few countries which has had a local research and development facility for a long time," said Abneesh Roy, Executive Vice-President, Edelweiss Financial Services.
Besides this, Nestle India has a higher share of milk and value-added milk products in its sales mix, which bodes well for the company say analysts given that milk has a high nutritional quotient. Last year, the company drew over 46 percent of its sales from milk and nutrition products, higher than prepared dishes which includes Maggi noodles (shown in the chart below). Volume growth, however, is driven by prepared dishes.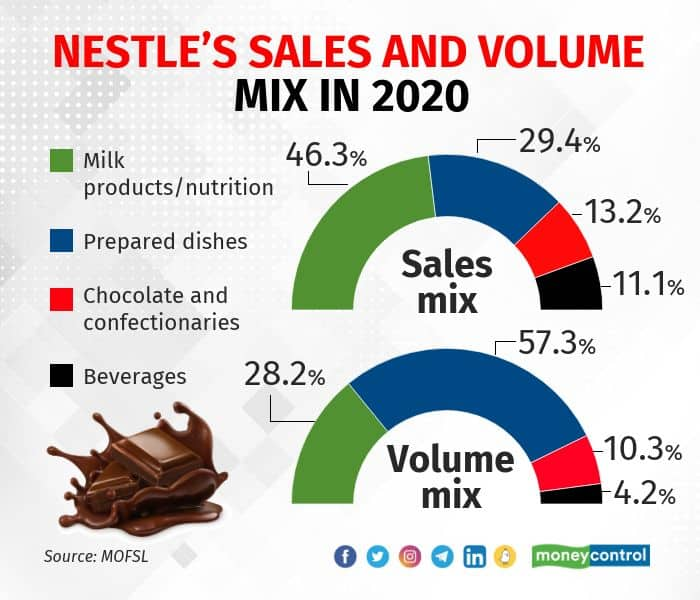 Its initiatives in the country towards introducing atta, spinach variants of Maggi noodles, fruit and nuts to chocolates and reducing sugar and salt content are being seen as an effort to increase the health quotient in its products, by analysts.
Devangshu Dutta, chief executive at retail consultancy Third Eyesight is of opinion that India usually remains unimpacted by developments in these multinationals globally as there is lower sensitivity and awareness in the country. "Take, for example, veganism which is a huge trend in the West but has not caught on as much in India yet."
He believes the country would eventually be impacted by these developments but not immediately.
What is the real significance of this controversy?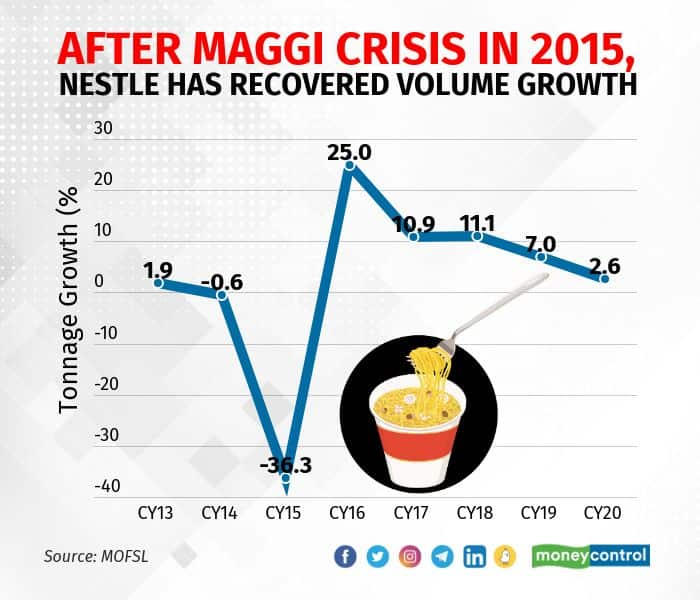 Nestle has come under fire in the past because of concerns about its food products. Back in 2015, Nestle had landed in trouble after Maggi, its most popular product in the country, was found to have monosodium glutamate or MSG by the Food Safety and Standards Authority of India (FSSAI). In a major setback for the company, the food safety regulator had consequently banned the sale of the product in the country. Maggi then commanded over 80 percent of the market share in India. Nestle's volumes had plunged sharply in 2015 due to the Maggi crisis. (as shown in the chart below).
Subsequently, after five months of legal battle, Nestle relaunched Maggi in the country, however, it resulted in the loss of some of its market share. Today, the company holds almost 60 percent market share in the instant noodles category, as per estimates.
In the light of these events, the recent controversy around its product portfolio becomes significant as Nestle cannot afford a repeat.
Source: moneycontrol